A great strategy is worthless if it fails in implementation. More than ever, strategic agility is essential for any organization to successfully overcome internal and external barriers and thrive in today's dynamic environment.
We curated some contents (articles, infographics, videos) that could assist you.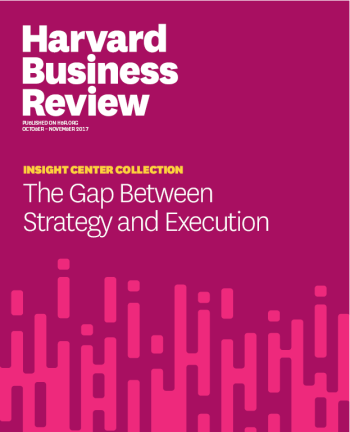 Featured Resource
Report: This HBR Insight Center collection, sponsored by Brightline, cuts through the jargon and hand-waving and gives executives clear, actionable advice on how to close the gap between strategy and execution. A total of 24 relevant articles were compiled in this report.
Highlights:
Page 02 – The stretch Goal Paradox – Sim B. Sitkin, C. Chet Miller, and Kelly E. See
Page 38 – Good strategy execution requires balancing 4 tensions – Michael Connerty and Simon Horan
Page 44 – Is execution where good strategies go to die? – Mark Bonchek
Page 48 – Many strategies fail because they're not actually strategies
Page 68 – 3 Changes retailers need to make to survive – Deborah O'Neill and Nick Harrison
Page 75 – How to excel at both strategy and execution – Joachim Rotering and Paul Leinwand
Page 91 – How the most successful teams bridge the strategy-execution gap – Nathan Wiita and Orla Leonard
Page 95 – Great corporate strategies thrive on the right amount of tension – Carsten Lund Pedersen and Thomas Ritter
---
Subscribe to our newsletter
Yes, I'd like to receive more information on resources, events from Brightline via email. Refer to our Privacy Notice for more information on how we use and protect your data.