Report

| 24 October 2019
The Brightline Transformation Compass
A comprehensive system for transformation
Project Management Institute, together with Behnam Tabrizi, renowned expert in Transformation.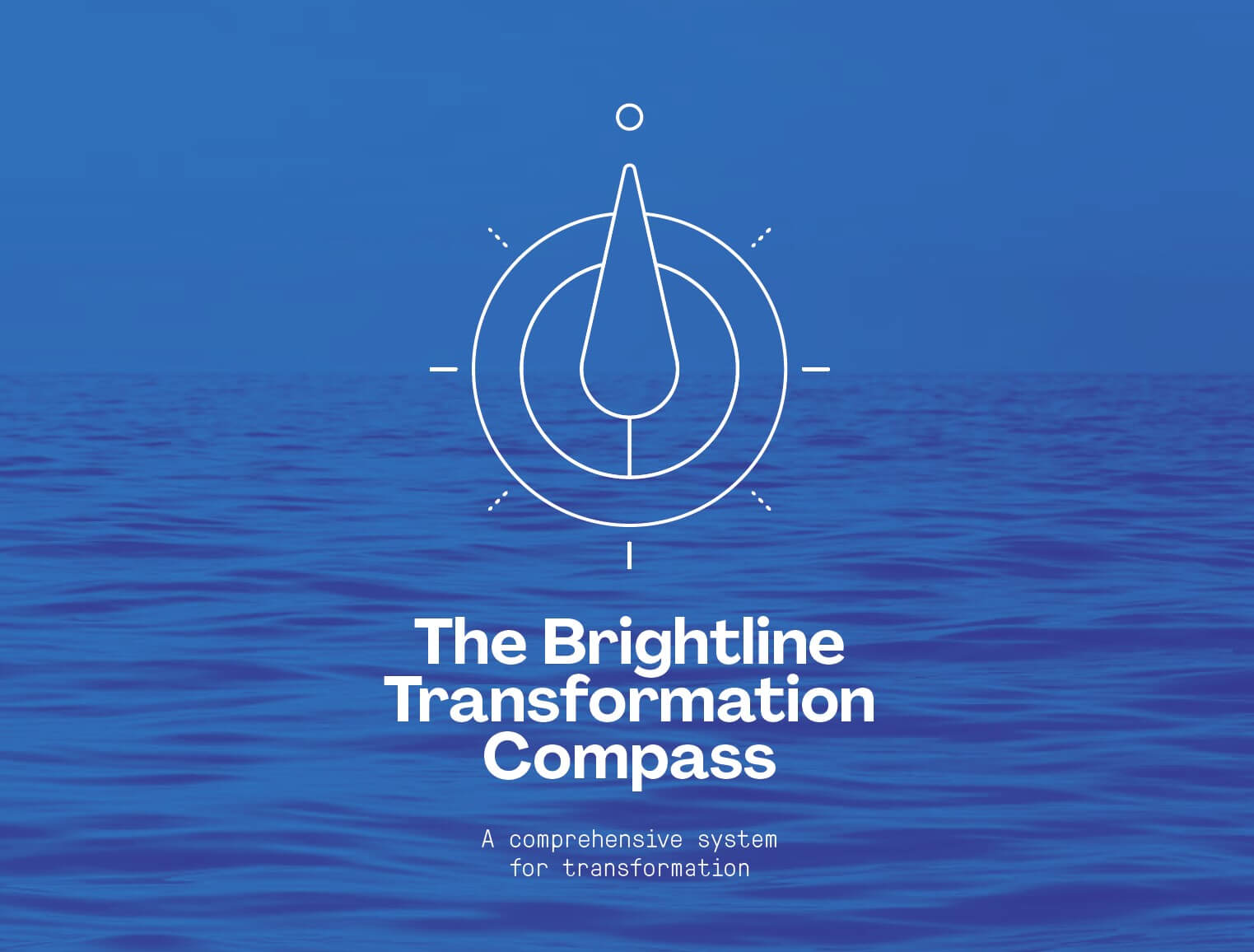 We need to transform the way we transform organizations…
…by putting people at the center of transformation
The Compass aligns inside-out and outside-in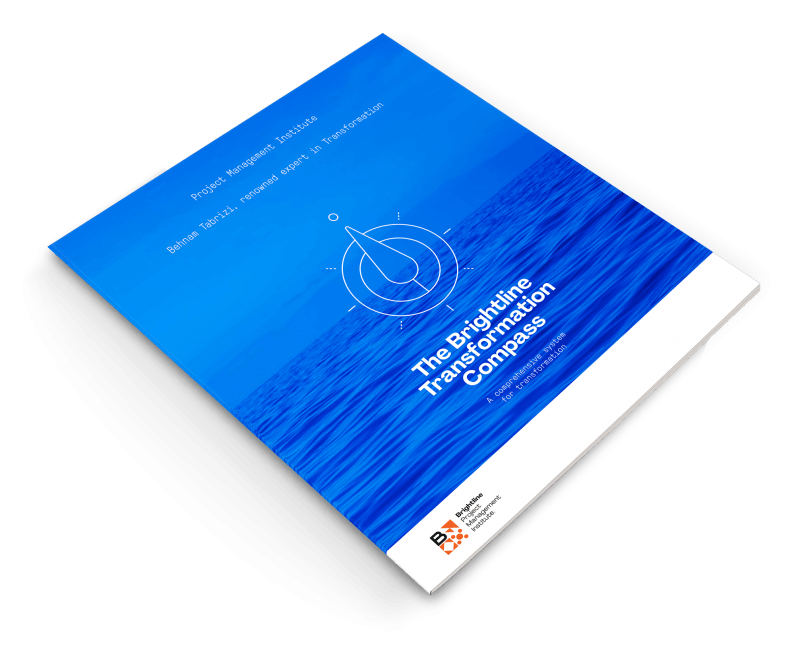 The key to a successful transformation is building a movement that aligns inside-out and outside-in approaches.
A transformation shaped by the Brightline Transformation Compass is led by committed senior leaders inside your organization, and authored and driven by large numbers of your own employees – the management and front-line team members who have a stake in your success. It is not a cookie-cutter exercise created and executed by armies of consultants.
The approach works because of the focus on building employee commitment and motivation by enabling them craft their own transformation journey.
The approach is not insular – it relies on a deep empathy with customers, and an understanding of the megatrends that shape their behavior.
This combination of inward and outward focus is what makes transformations that use the Compass deliver on strategic goals with sustained benefits.
Brightline Transformation Compass Overview
The Compass is built around 5 critical, mutually-reinforcing building blocks for effective transformation: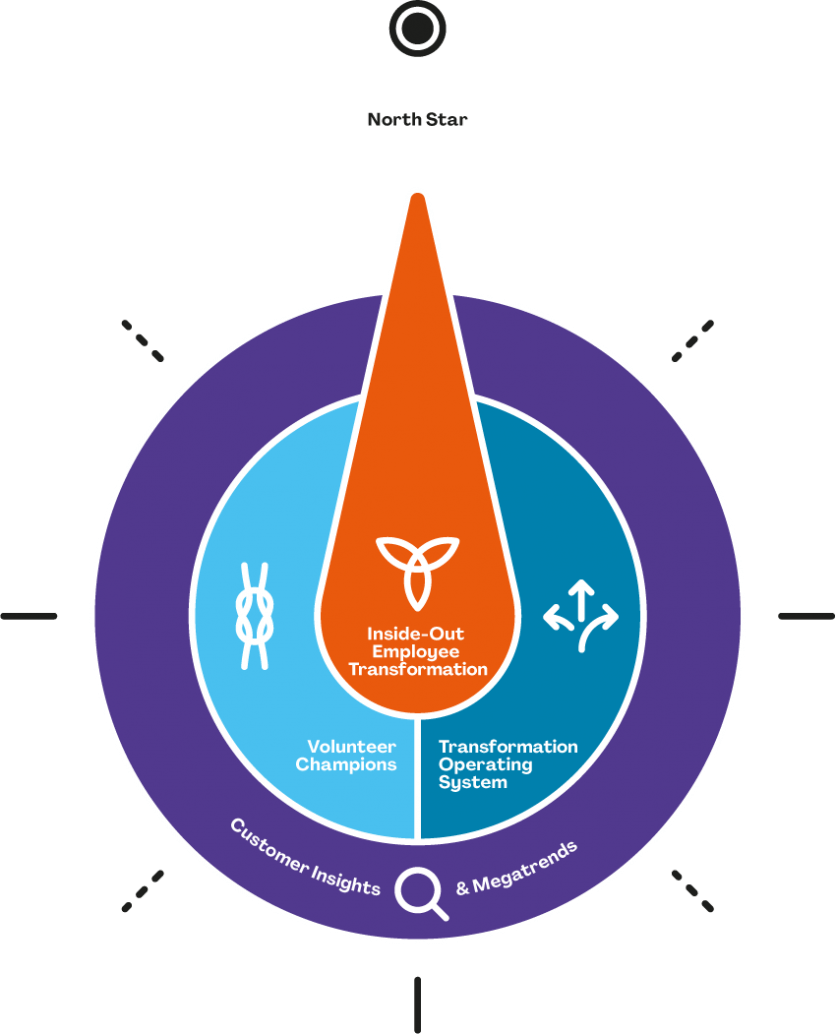 The North Star

A crisp, inspiring articulation of the vision and strategic objectives for the transformation.

Customer Insights & Megatrends

Embedding a deep understanding of the customer in every change you make, and in every employee – the customer you may have today, and the customer you want tomorrow, as well as the "megatrends" affecting them.

The Transformation Operating System

A flat, adaptable and cross-functional organizational structure that enables sustainable change.

Your Volunteer Champions

A mechanism to harness many thought-leaders from across your organization to drive transformation.

Inside-Out Employee Transformation

A set of tools to make the transformation personal for your employees – to connect their aspiration to the North Star and to your customers.
These 5 blocks are supported by our Compass Methodology, a three step process that will help you rapidly drive the transformation efforts and start seeing tangible results in the most rapid way. The methodology will guide you in inspiring your organization for change; in mobilizing key elements to drive the change, and in shifting the organization
to effect transformation.
This approach is independent of the working methodology you may be using or trying to institute within your organization. It will work with organizations that follow principles of Design Thinking, Agile (and its various flavors including Scrum, SAFe, DAD), Waterfall, Lean etc.
We have designed the Compass to be industry-agnostic and size-agnostic. It can be used for any type of transformation.
Watch this short film on how leaders can transform their organizations by empowering their people.
---
How to Navigate Change in the Era of Transformation?
Watch The Transformation Imperative Livestream recorded on January 21, 2020, at Davos.
Event overview:
Transformation is the new normal. But as yesterday's start-ups morph into today's incumbents, the way transformation looks and feels is evolving.
The panel addressed:
- How can leaders ensure their transformation strategies are built to last?
- Can corporates 'fail fast, fail often' like their start-up competitors?
- What new corporate structures will emerge in the age of digital transformation?
- How integral is the pressure of real competition, vis-a-vis the FAANGs, in fueling change across the ecosystem?
Speakers:
- Melanie Kalmar, chief information officer, and chief digital officer, Dow
- Jeroen Tas, chief innovation and strategy officer, Philips
- Ernesto Ciorra, chief innovability officer, Enel
- Rima Qureshi, Chief strategy officer, Verizon Communications
- Sylvain Duranton, Global Leader, BCG GAMMA
The panel was moderated by Tamzin Booth, Britain business editor, The Economist.