Report by Harvard Business Review – Mar 28, 2018
Harvard Business Review: The Gap Between Strategy and Execution
Insight Center Collection
Coming up with a winning strategy is hard enough; but implementing it may be even tougher. And the advice out there is often vague or conflicting. Should you empower front-line employees? Reorganize? Delayer? Focus on culture?
This HBR Insight Center, sponsored by Brightline, cuts through the jargon and hand-waving and gives executives clear, actionable advice on how to close the gap between strategy and execution.
We explain how to tie every phase of the strategy-making process more closely to implementation, how to identify the competencies your organization really needs to win in the marketplace, and how to get your employees to spend time on the right priorities.
Table of contents
The Stretch Goal Paradox – Sim B. Sitkin, C. Chet Miller, and Kelly E. See

Execution Is a People Problem, Not a Strategy Problem – Peter Bregman

How Our Company Connected Our Strategy to Sustainability Goals – Michael W. Lamach

How AI Will Change Strategy: A Thought Experiment – Ajay Agrawal, Avi Goldfarb, and Joshua Gans

Closing the Strategy-Execution Gap Means focusing on What Employees Think, Not What They Do – Alison Reynolds and David Lewis

To Sound Like a Leader, Think About What You Say, and How and When You Say It – Rebecca Shambaugh

Your Strategy Won't Work If You Don't Identify the New Capabilities You Need – Logan Chandler and Ron Ashkenas

The Best Companies Know How to Balance Strategy and Purpose – Jose Lopez, Laurent Chevreux, and Xavier Mesnard

Good Strategy Execution Requires Balancing 4 Tensions – Michael Connerty and Simon Horan

Smart Leaders Focus on Execution First and Strategy Second – Rosabeth Moss Kanter

Is Execution Where Good Strategies Go to Die? – Mark Bonchek

Many Strategies Fail Because They're Not Actually Strategies – Freek Vermeulen

Corporate Learning Programs Need to Consider Context, Not Just Skills – Todd Warner

Your Strategy Should Be a Hypothesis You Constantly Adjust – Amy C. Edmondson and Paul J. Verdin

Executives Fail to Execute Strategy Because They're Too Internally Focused – Ron Carucci

Your Strategy Has to Be Flexible–But So Does Your Execution – Martin Reeves and Rodolphe Charme di Carlo

3 Changes Retailers Need to Make to Survive – Deborah O'Neill and Nick Harrison

Figure Out Your Company's Make-or-Break Strategic Problems, Then Use Small Teams to Solve Them – James Allen

How to Excel at Both Strategy and Execution – Joachim Rotering and Paul Leinwand

5 Ways the Best Companies Close the Strategy-Execution Gap – Michael Mankins

CEOs Should Stop Thinking that Execution Is Somebody Else's Job; It Is Theirs – Roger L. Martin

Is Your Company Actually Set Up to Support Your Strategy? – Eric Garton

How the Most Successful Teams Bridge the Strategy-Execution Gap – Nathan Wiita and Orla Leonard

Great Corporate Strategies Thrive on the Right Amount of Tension – Carsten Lund Pedersen and Thomas Ritter

How to Choose and Execute the Right Strategy – HBR Webinar with Martin Reeves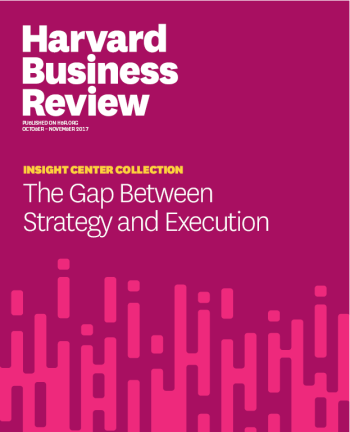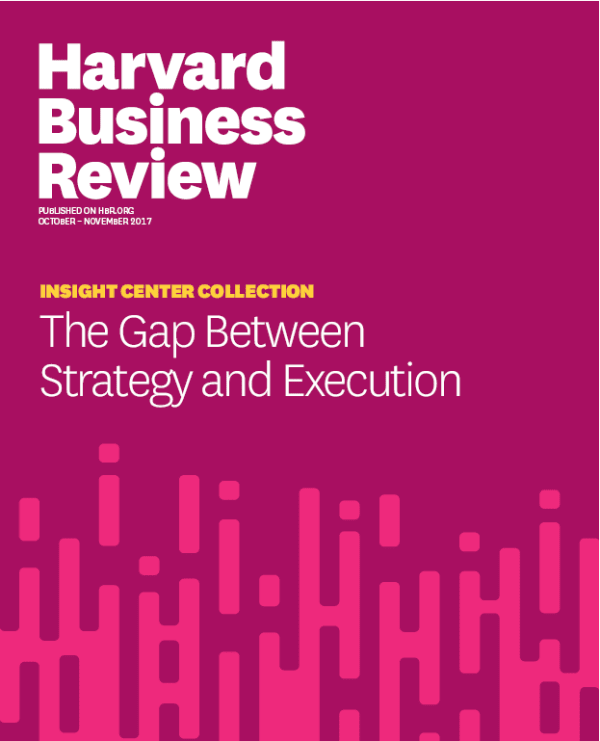 Download report
Harvard Business Review: The Gap Between Strategy and Execution
The Brightline™ Initiative would like to know a bit more about you, so we can improve our resources.
Please take the time to fill the form.
Or you can just download the file.