Interview by The Economist – Dec 12, 2017
Preventing a "frozen middle": How to engage middle managers to close the strategy implementation gap
Q&A with Bharat Anand, Henry R. Byers Professor of Business Administration, Harvard Business School, and John Seifert, Worldwide Chairman and CEO, Ogilvy & Mather.
In a global survey of 500 corporate leaders conducted by The Economist Intelligence Unit1, respondents pointed to middle and line managers as potential impediments to fulfilling strategic ambitions. The EIU interviewed Bharat Anand and John Seifert to explore the nature of—and solutions to—challenges in engaging the so-called frozen middle.
EIU: In our survey, 62% of respondents said that lack of buy-in from middle managers, line managers or both created a significant barrier to strategy implementation at their organisations. We often hear talk about a so-called frozen middle. What are your thoughts on this concept?
Seifert: This is a group you absolutely cannot ignore. Winning their hearts and minds is one of our most important strategic imperatives. The challenge in our industry—the professional and creative services—is that for the past decade, the middle layer of companies has been under a fair degree of stress.
These are the folks on the front lines, delivering value to clients every day. But we have found that there is more and more pressure to rationalise the middle from a cost perspective. We are highly dependent on them, yet they are under the most scrutiny in terms of the value they bring.
"Middle managers are central to execution of strategy."

Bharat Anand, Henry R. Byers Professor of Business Administration, Harvard Business School.
Anand: It is tempting to frame this as a black-and-white issue, but I don't think it is. Middle managers are central to the execution of strategy, AND they can be a natural barrier to strategic innovation at the same time. The reason is that these are the people central to ultimately delivering on day-to-day implementation of a strategy. That requires them to be focused and committed to a particular set of tasks. Then asking them to carry out change initiatives can be hard.
It is hard to be focused and committed to an existing strategy and to innovate at the same time. Some folks are comfortable with ambiguity and creativity; others simply are not. Indeed, you can have people who are fantastic at execution but who are not change agents, so that the same person can be an asset or a liability depending on the circumstances.
Download and read the complete Q&A using the form on this page.
---
The survey was conducted in June and July 2017. Respondents all work for large companies: 48% had annual global revenue of US$1bn-5bn; 39% of US$5bn-10bn, and the remaining 13% of more than US$10bn. The survey sample is also senior, with half C-level or above and the other half made up of senior and executive VPs, directors, and heads of business units and departments. In geographic terms, 30% each come from North America, Europe, and Asia-Pacific and the remainder from the rest of the world. Finally, respondents are from a wide range of industries, with IT (10%), financial services (9%), and manufacturing (8%) most frequently represented. [return]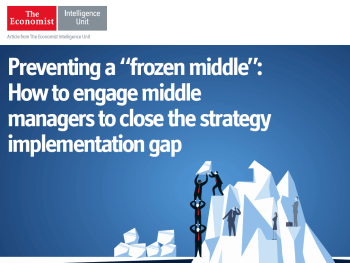 Download interview
Preventing a "frozen middle": How to engage middle managers to close the strategy implementation gap
The Brightline™ Initiative would like to know a bit more about you, so we can improve our resources.
Please take the time to fill the form.
Or you can just download the file.