The Transformation Playbook
Insights, Wisdom and Best Practices to Make Transformation Reality
Transformation is not a neat theory, but a human imperative in our fast-changing times. Transformation has never been more important and the human side of transformation is now, at long last, being fully appreciated.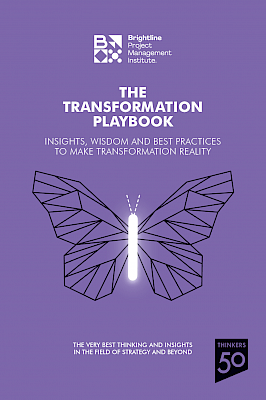 The Transformation Playbook is the third in a series of books the Brightline Initiative has produced in partnership with Thinkers50. As with the first two books – Strategy@Work and The CSO Playbook – we have gathered together insights from an array of practitioners and thinkers. They are a truly global and inspirational mix.
The aim of The Transformation Playbook is to ignite debate and thinking. Gone are the days (if they ever truly existed) when there was one single best answer to a business challenge. Now, there are a profusion of different approaches, tools and techniques. Ideas abound. And, reassuringly, so too does inspirational practice. Among the great transformation journeys recounted in the book are those of Michelin, Li & Fung, CenturyLink and the Department of Planning and Development in California's Santa Clara County.
The linking theme to these stories and the ideas that fill the following pages is simple: people.
Our work at the Brightline Initiative has looked at strategy execution and the barriers that frequently prevent great strategies becoming brilliant reality. The biggest barriers are human. The human side of transformation is a recurring theme throughout The Transformation Playbook. One way or another, the purpose of transformation must be to enhance people's lives. To make this reality demands that people are galvanized into dynamic action. Transformation is not a neat theory, but a human imperative in our fast-changing times. Transformation has never been more important and the human side of transformation is now, at long last, being fully appreciated.
We hope that The Transformation Playbook will challenge your own ideas about what it takes to transform organizations. And, we also hope that it provides useful and practical suggestions as to what to do when you start on your own transformation journey.
Start now!
Ricardo Viana Vargas
Executive Director, The Brightline Initiative
---
Table of Contents
Preface
Foreword
The human side of digital transformation

Behnam Tabrizi, Ed Lam, Kirk Girard & Vernon Irvin

The fundamental problem with transformation implementation
A purpose-driven transformation
The digital transformer's dilemma: how to sustain success in the core while building a new digital business

Karolin Frankenberger, Hannah Mayer, Andreas Reiter & Markus Schmidt

The new era of change management

Reinhard Messenboeck, Grant McCabe, Perry Keenan, Jeanne Kwong Bickford & Michelle Stohlmeyer Russell

Preemptive transformation: fix it before it breaks

Martin Reeves, Lars Faeste, Fabien Hassan, Harshal Parikh & Kevin Whitaker

Schein on change
Using crisis as a catalyst for transformation

Edivandro Carlos Conforto, Ricardo Viana Vargas & Tahirou Assane Oumarou

Four transformation traps and how to avoid them

Claudio Garcia, Kaihan Krippendorff, Zachary Ness, et al

Transformation in the 21st Century: how not to implement change initiatives
A roadmap for creating digitally-enabled organizations
Fear: The big inhibitor of innovation and transformation

Edward D. Hess & Donna Murdoch

To out-transform your competition, activate internal entrepreneurs
An unlikely case of successful digital transformation

Thales Teixeira, Leandro Guissoni & Frederico Trajano

Kotter on change
From transformation insanity to enterprise instancy: catalyzing an adaptive leadership system
The role and functions for transformation

David Kallás, Carlos Afonso Caldeira & Fabiana Cherubim Bortoleto

Transforming culture
The I.AM framework
The A to Z of transformation
The discipline of change

Susie Kennedy & Andrew Bray

The human side of transformation
Kanter on change
Opening up to transform
The transformation: how Michelin redefined the twenty-first century industrial corporation
Sensemaking and interpretation in transformation
Resilient transformations

Verena Stingl, Morten Wied & Josef Oehmen

Digital transformation: make people first!
Digital execution: what it takes to succeed
Are you ready?
Can caterpillars fly?

Sharon Olivier & Frederick Holscher

Making sense of the transforming power of AI

Mark Esposito & Terence Tse

What can the survivors teach us?