Perpetual Transformation
Practical Tools, Inspiration and Best Practice to Constantly Transform Your World
Transformation is no longer a short-lived initiative. It is not a program. It is not linear. Instead, the world's leading organizations now embrace transformation as a challenging, stretching, exciting and essential constant in their lives. Welcome to the age of perpetual transformation.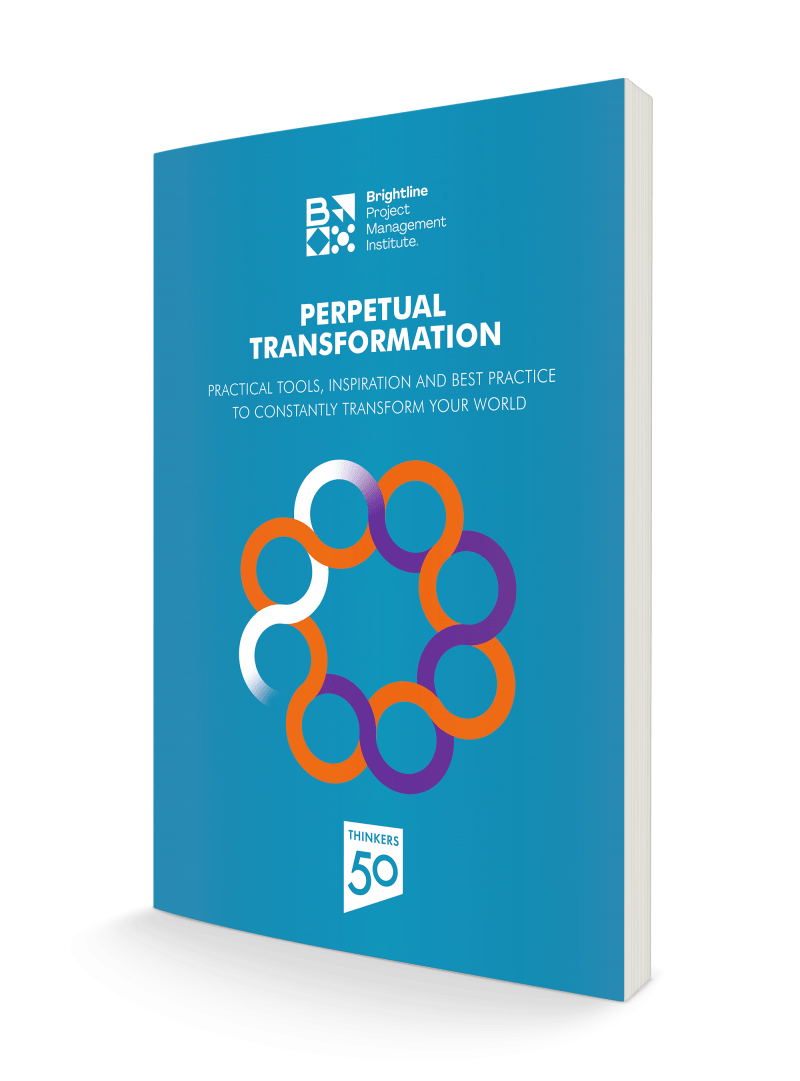 The Brightline Initiative and Thinkers50 have collaborated to bring together some of the world's leading minds on the theme of perpetual transformation. Curated by Thinkers50 cofounder Stuart Crainer and introduced by PMI COO Michael DePrisco, Perpetual Transformation features ideas and insights from Didier Bonnet, Susie Kennedy, Kaihan Krippendorff, Jeffrey Kuhn, Habeeb Mahaboob, Tony O'Driscoll, Martin Reeves, Lars Fæste, Tom Deegan, April Rinne, Antonio Nieto- Rodriguez, Gabriele Rosani, Paolo Cervini, Robin Speculand, Behnam Tabrizi and a host of others.
---
You can buy this book on Amazon in ebook or Printed Paperback format.
Buy Ebook now Buy Paperback now
---
Table of Contents
Foreword
Michael DePrisco
Putting employees and customers at the heart of transformation
Tiffani Bova
Thriving in a persistent transformation context
Edivandro Carlos Conforto and Juliana Mendes
How to survive in a world of perpetual transformations
Claudio Garcia
Transforming for a sustainable future
Matt Gitsham
Making perpetual transformation the norm
Susie Kennedy
An essential framework for continuous innovation
Kaihan Krippendorff
Strategic explorations: The wellspring of corporate renewal and longevity
Jeffrey Kuhn
Developing a transformational culture
David Liddle
Organizing for perpetual transformation
Habeeb Mahaboob
The transformation office as a permanent part of organizational life
Reinhard Messenboeck, Kristy Ellmer, David Kirchhoff, Mike Lewis, Perry Keenan, Simon Stolba and Connor Currier
A people-centered approach to leading perpetual transformation
Tony O'Driscoll
Transformation ignition points
Tahirou Assane, Yavnika Khanna, Emil Andersson and Tony O'Driscoll
Transform for resilience: An imperative for good times too
Martin Reeves, Lars Fæste & Tom Deegan
Perpetual transformation in a world in flux: Toward a flux mindset and organizational resilience
April Rinne
Becoming a focused organization to achieve perpetual transformation and thrive in a world driven by change
Antonio Nieto-Rodriguez
A paradigm shift for managers: Focus on the journey, not the destination
Gabriele Rosani and Paolo Cervini
Change vitality: How to lead for continual transformation
Deborah Rowland
Eight implementation habits
Robin Speculand
Talking transformation
Behnam Tabrizi