26–27 September 2018

| Odense – DK
Thinkers50 European Business Forum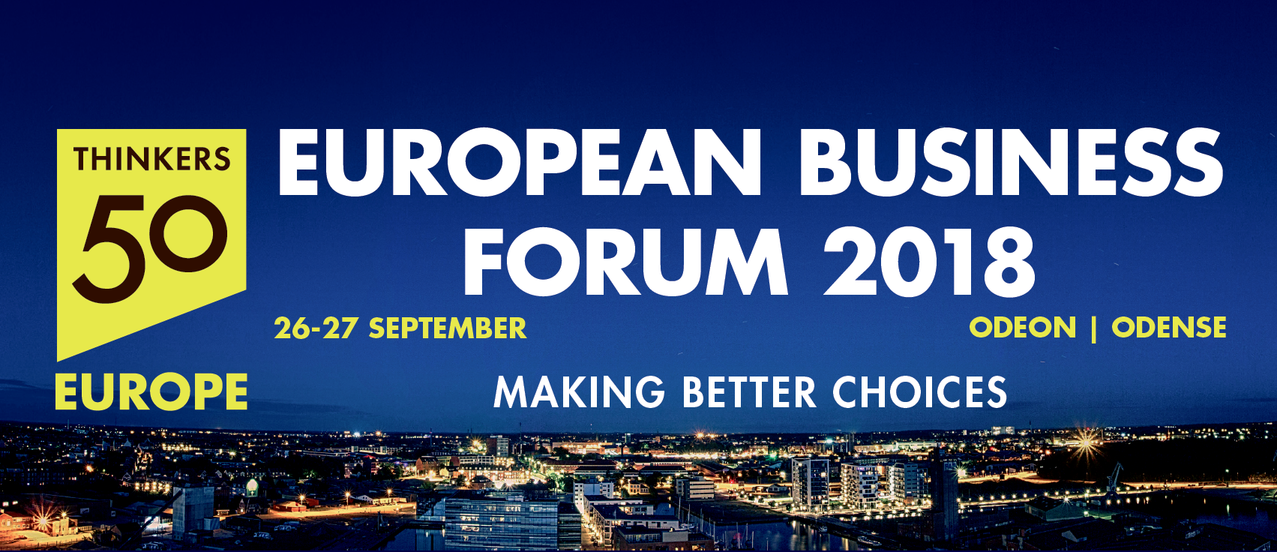 The European Business Forum is the premier event for business leaders in Europe. It brings together the continent's top business people with the world's leading management gurus in "the Davos of business thinking".
The forum is hosted by Thinkers50, the world's leading network of business thinkers, and located in Odense, Denmark. The home of Hans Christian Andersen, and now one of Europe's leading robotics hub, is the perfect place to write the story of the future.
"Making better choices" is the theme of this year's forum. Business leaders face more choices than ever before, and there are few limits to the ways a business can grow. In fact, in a world of infinite possibilities, the hardest part is often deciding what not to do – to make choices.
At the 2018 European Business Forum we will explore how business leaders can most effectively apply these new technologies for more impact, for both people and profit.
Videos
{{< video-grid >}} {{< video id="8zN6ymPk2X8" title="Event highlights" desc="The European Business Forum is the premier event for business leaders in Europe. It brings together the continent's top business people with the world's leading management gurus in "the Davos of business thinking."" >}} {{< video id="BJB9tsGMn8s" title="Roger Martin" desc="As the keynote speaker of the Thinkers50 European Business Forum 2018 and #1 ranked Thinkers50 business guru, Roger Martin shares his latest ideas about how we can make better choices in today's business world." >}} {{</ video-grid >}} {{< video-grid >}}
{{< video id="XQbxQbfpegY" title="Whitney Johnson" desc="Former award-winning Wall Street equity analyst, Whitney Johnson is an expert on disruptive innovation and personal disruption. She is the author of the critically acclaimed book Disrupt Yourself: Putting the Power of Disruptive Innovation to Work and the upcoming book Build an "A" Team: Play To Their Strengths and Lead Them Up the Learning Curve." >}}
{{< video id="6r4c2yAzRGk" title="Alex Osterwalder and Yves Pigneur" desc="Alex Osterwalder and his academic partner Yves Pigneur, authors of Value Proposition Design: How to Create Products and Services Customers Want and Business Model Generation: A Handbook for Visionaries, Gamechangers and Challengers share their advice on how senior leaders can make better choices in today's business world." >}}
{{</ video-grid >}}