22 January 2019

| Davos – CH
HUMANS 2.0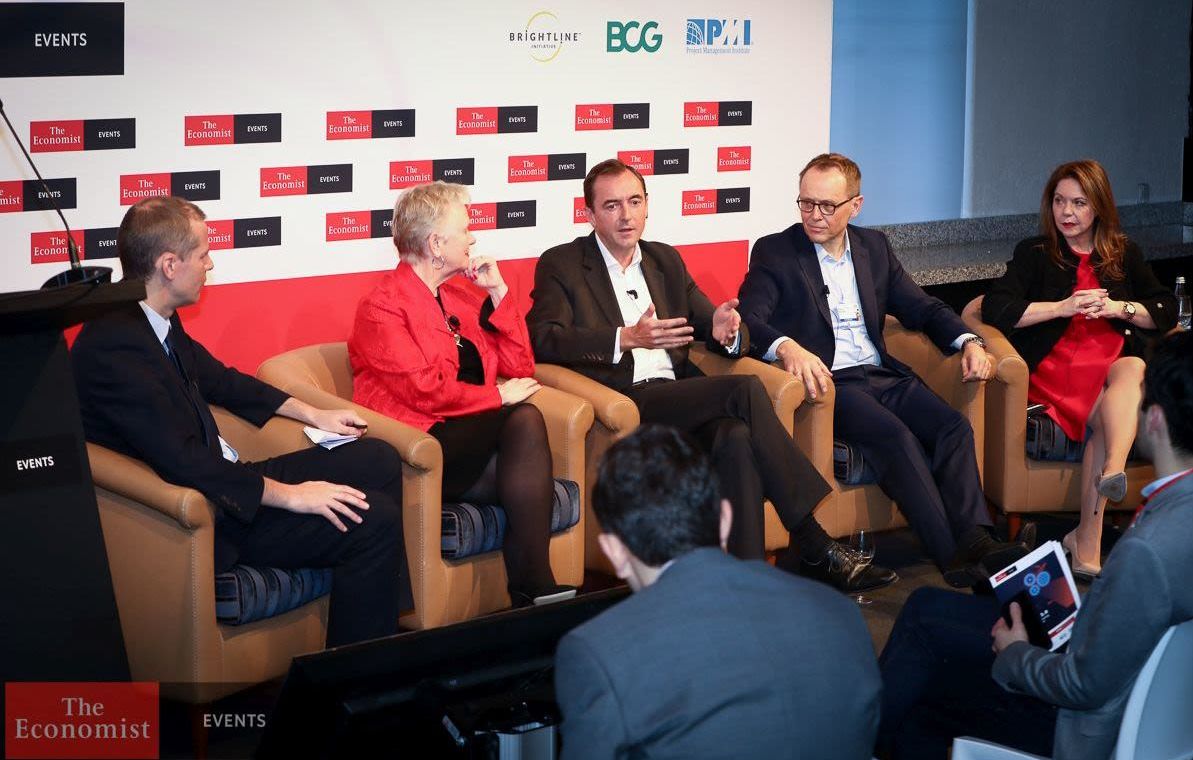 Brightline returns to Davos taking you for a deep dive into how leaders could harness the power of people and leverage technology to design and deliver a future-proof strategy
During the World Economic Forum at Davos on 22 January 2019, Brightline™ Initiative together with Boston Consulting Group and the Project Management Institute supported Humans 2.0: Designing and implementing a future-proof strategy, a panel discussion hosted by The Economist Events.
More than 70 world leaders attended this high-level event taking back thoughtful insights and practical solutions to successfully navigate a complex environment. In line with Davos' overarching theme, "Globalization 4.0: Shaping a global architecture in the age of the Fourth Industrial Revolution," the four panelists below shared their insights on the future of human capital and what is (or is not) changing in how leaders prepare their people and define their organizations' culture.
Ann Cairns, Vice-Chairman, Mastercard
Christophe Catoir, Chief Executive, France, Adecco
Rainer Strack, Senior Partner and Managing Director, Boston Consulting Group
Bernadette Wightman, Managing Director, Resources, Manufacturing and Logistics, Global Services, BT Group
The panel was introduced by PMI's Joseph Cahill, Senior Vice President, Finance and Administration and moderated by Patrick Foulis, Business Affairs Editor, The Economist. Together, these leaders expressed their views on the latest technological trends and their impact on human dimension and implementation of strategy.
The panel identified the major forces that will shape how organizations recruit, train and retain talent in times of rapid changes in technology and demography. Three common threads were observed from the panel discussion:
First is the re-definition of the meaning of employment, community and work. Humans 2.0 accept that technological change is constant, and that organizations are a vehicle to come together to make a positive social impact.
Second, there is an emerging need for organizations to find and communicate their purpose simply. People are the competitive advantage of the organization, and leaders need to communicate the purpose and simplify the complexity of transformation for their work force.
Third, we need to change the ways in which the organizations build agility and respond to consumer demands. The present workforce is willing to adapt, and take responsibility of developing itself, if they identify with the purpose of the organizations they support.
Interviews
Reflecting on the event, Ricardo Vargas, Executive Director, Brightline Initiative, discussed how to turn ideas into reality, making sure that the people and the communities are at the center of the transformation. Joseph Cahill, Senior Vice President at the Project Management Institute (PMI) noted that the technological change out-paces the human adaptation creating a gap that could be filled by engaging employees while giving them more purpose and upscaling them.
Brightline at Davos 2018 - The Business Case for Openness
Videos from last year's event.
Joseph Cahill
Senior Vice President, Finance and Administration, PMI
Ricardo Vargas
Executive Director, Brightline Initiative