Blockchain-Driven Transformation
How Distributed Ledger Technologies Have Changed the Enterprise Forever
With digital assets, smart contracts, and shared distributed ledgers, blockchain tech is a catalyst for enterprise transformation.
by Anthony Williams, Tahirou Assane, and Emil Andersson
DEEP Centre and the Brightline Initiative
"The real challenges are mapping the supply chain, making sure that the data is reliable, and enforcing some discipline on who's allowed to do it and whether you can trust it."
Douglas Johnson-Poensgen
Founder and CEO - Circulor
Invention and reinvention—those are the two constants of the digital age. As disruptive technologies such as blockchain, AI, and IoT drive profound changes in the social and economic landscape, savvy enterprise leaders continually reinvent or transform how they conduct their core business. Transformation may mean bringing new products and services to market.
It can also entail making significant structural changes to people, processes, and technologies to bring new operational efficiencies. More than ever, winning enterprises distinguish themselves in the marketplace through their ongoing changes in corporate strategy and structure.
Idea in brief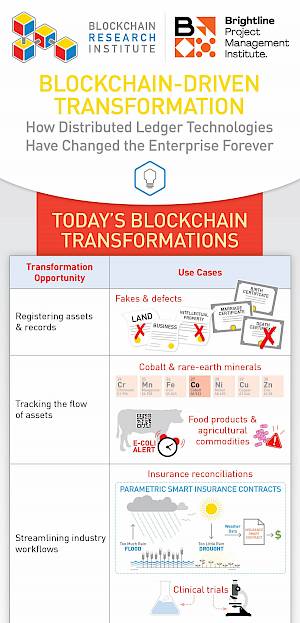 While blockchain adoption is in the early stage, enough early adopters are sufficiently far ahead that we can point to numerous far-reaching enterprise and industry-level transformations in evidence today. Beyond the proof-of-concept or pilot stage, these blockchain applications are transforming how we do business.
Efficient asset markets—both real and intellectual property as well as financial and other digital assets—need registries that are secure, transparent, easy to access and use, and hard to dispute. Blockchain tech is well-suited to fulfill these functions.
Efficient asset chains—from sourcing of ingredients to enterprise procurement—need track-and-trace capabilities to verify authenticity, provenance, and regulatory compliance of all assets.
With shared distributed ledgers, supply chain parties can quickly verify status of assets and every agent in the process, including those who extracted, acted upon or altered, quality-tested and approved, transported and cleared at borders, financed, and insured them. Parties to complex projects such as building city infrastructure, can do the same during the construction process.
With smart contracts, partners in a supply chain or a largescale project can automate compliance with myriad international, national, and local codes, customs, standards, and regulations to streamline workflows.
With the trivergence of blockchain, artificial intelligence (AI), and the Internet of Things (IoT), we expect deep transformations of identity management systems, global payment rails, banking products and services, and global financial markets, with greater use of distributed software agents (aka bots), sensor technologies, and autonomous robots.