The Business Case for Openness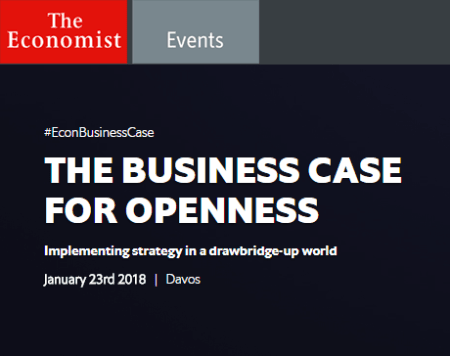 The Brightline Initiative along with its founding members Project Management Institute (PMI) and The Boston Consulting Group (BCG) is supporting this event hosted by The Economist.
There is a growing awareness among investors about the value of engaging constructively with important global issues and building agile alliances in a world heading toward protectionism and seclusion.
Watch it live!
The event will be live streamed at The Economist Events' page on Jan 23 — 7h30 AM UTC.
Save it to your calendar: download the .ics file.
The Business Case for Openness will discuss:
What is the role of businesses in pushing for openness and collaboration?
How exactly can corporate players be the agents of the change their customers, employees and investors want to see?
How are leaders articulating and implementing their strategy (not just their PR story line) to address openness and collaboration?
What innovative cooperation models involving private companies, non-profit organizations, academia, and governments are achieving this?
How can companies coordinate their profitability agenda with the responsibility to the societies that grant them the right to operate?
And what are the tools and structures that help organisations and people collaborate?
Speakers
Tamzin Booth – Business affairs editor, The Economist
Hugh Johnston – Vice-chairman and chief financial officer, PepsiCo
Jean-Philippe Courtois – Executive vice-president and president, Global Sales, Marketing and Operations, Microsoft
Miki Tsusaka – Senior partner, managing director and chief marketing officer, The Boston Consulting Group
Jonathan Auerbach – Executive vice-president, chief strategy and growth officer, PayPal