Transformation Talk

| 27 April 2023
Strategy Luck
Competencies to navigate unpredictable waters
Three competencies for strategic luck that can help you navigate the unpredictable waters we face today
Only a fool leaves their future to chance. Get ready to level up the luck in your organization and your life with the international bestselling author Jonathan Brill, whom HBR recently called, "The World's Foremost Transformation Architect" and Forbes ranked as its #1 futurist.

In this fun and compelling talk, Brill will unveil three competencies for strategic luck that can help you navigate the unpredictable waters we face today. You'll learn to be even more adaptable, strategic, and collaborative - skills that can help you turn uncertainty into a strategic advantage. So, let's get lucky! Join Brill and discover how to strategically create your own luck and thrive in our time of radical change.
About the presenter
Jonathan Brill
Speaker / Author / Advisor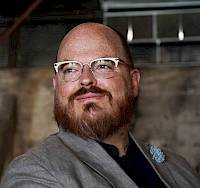 Jonathan Brill is an expert in strategic foresight that writes, speaks and advises on creating, managing and turning radical change to your advantage. Harvard Business Review recently called Brill "The world's leading transformation architect." Inc. magazine called Brill "A Silicon Valley legend."

He is the Senior Fellow at HBR's China New Growth Institute and Board Advisor at Frost & Sullivan. He authored Rogue Waves, Future-Proof Your Business to Survive and Profit from Radical Change(McGraw-Hill), China's #2-selling economics book. He frequently contributes to HBR, TED, Global Peter Drucker Forum, J.P. Morgan, Singularity, Forbes, Korn Ferry, Sirius XM,

The Economist Global Business Report, Bloomberg, Sirius XM, Fast Company, The Project Management Institute, Brightline and Thinkers50. He holds a degree in industrial design from Pratt Institute. He is a research consultant to the MIT Media Lab and is in management training at the Stanford University Graduate School of Business.