24 February 2022

| – ON
Commercial Space Industry: Exporting value to the World
The commercial space industry has increased operations in the last 5 years due to the value that can be delivered across different industries for enhancing human life and economic growth. As such, the commercial space industry is contributing to ensure key dimensions of sustainability but also social responsibility with different stakeholders such as communities, environment, and businesses for influencing their economic growth.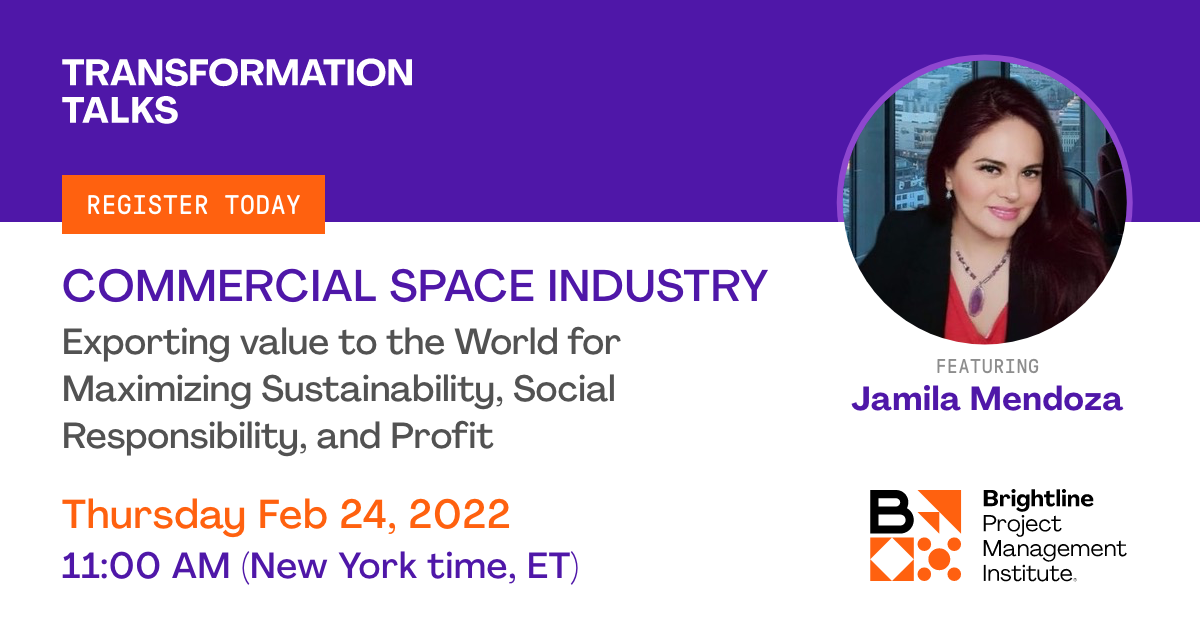 In this Transformation Talk, Jamila Mendoza aims to raise awareness of the potential of the commercial space industry for the audience, appreciating that space goes beyond launching rockets, and sparkling an understanding of how the commercial space industry can transform their business and human life irrespective of their region.

Join Jamila Mendoza, Founder of Space Management and the Institute Council Deputy Leader in this Transformation Talks.
Thursday, Feb 24, 2022. 11 AM ET.
About the presenter
Jamila Mendoza, Founder of Space Industry Management & Institute Council Deputy Leader, Norway
Jamila Mendoza is a business executive, world affairs and space industry specialist. She has established the foundation of Space Management to further development of downstream space services globally. She serves at the University of Stavanger as Institute Council Deputy Leader (Instituttråd nestleder) to contribute to the university's vision and strategy in Norway.
Jamila is a member of the young energy Committee of the Norwegian Petroleum society and space generation advisory council in the task force space policy. In addition, she is a pioneer in the decarbonization transformation processes and strategic sustainability in the Nordic Region in the Oil&Gas industry, and under her leadership, the company was certified at the Corporate level. Moreover, she has a track record in the renewable industry, and export in executing operational excellence, compliance with international Law & regulations, and open new markets for increasing revenues with an eye in responsible and ethical impact on stakeholders and shareholders
Jamila earned higher education in International Relations (Honors), energy and environment from the University of Stavanger. In addition, she has a Finance concentration Specialization in Switzerland and presently, she is working on a Ph.D. to strengthen her previous academic portfolio